Dyno Sheet - 359ci Ford Mustang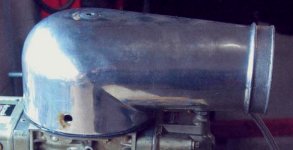 Vs.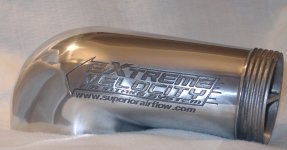 West Coast Fab. Carb Hat                        Extreme Velocity
(aka Carburetor Solutions Unlimited)
Second Dyno Run
The testing on John's Mustang is complete, and the results were a little closer than the last time he was on the dyno. He had just got his carburetor back from Bob Vrbancic at The Carb Shop. What a great job he did, I'd recommend them to anyone. Extreme Velocity @ 722 rear wheel horsepower and CSU @ 687 rwhp. After the final pass with the EV hat, we laid down 7 passes tuning the CSU before recording one. We wanted to make sure all was fair.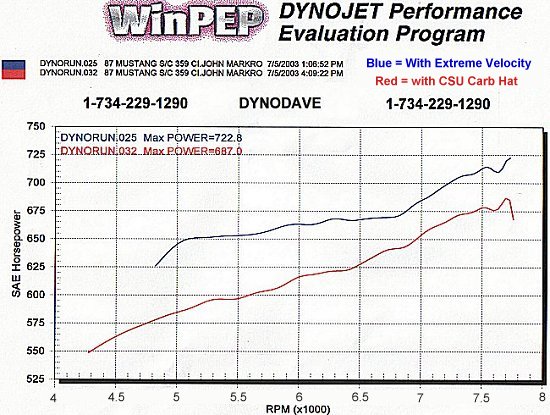 First Dyno Run
John came to us with a fresh 359 he built himself with the help of a friend. The first pull was dangerously lean and several jet changes occurred. We went all the way to 99's on a carb he got through performance carburetors (along with his hat). He needed more fuel so we switched to a 650 CFM demon carb that was previously on a supercharged big block. He gain 125 HP and 100 ft/lbs TQ. Positive proof that carbs do matter!  We jetted that carb all the way to 99's and the 359 still was responding and wanted more fuel. Next we put on a Holley 1000 CFM and jetted it all the way up. Air/Fuel was now in check and several pulls were recorded. John is looking into a new carb for his setup. We would like to see John's car back with his new carb for additional testing.